Blunders: GW2A Unchained Power Untamed (PVE)
12,00 € every 6 years with a 2-day free trial
1.0.12-STABLE (28 January 2023)
● Performs at and above 90% of the current benchmark on the Standard Training Golem with 4,000,000 HP, all boons on the player and recommended consumables.
● Suitable for PvE activities, effective against heavy defiance targets.
● Leverages the Untamed's cool down reduction mechanics to maintain a fluid and continuous stream of damage.
● Unchained Power Untamed is a PvE Power DPS build that relies on Knockdowns.
Sold By: GW2A
Description
Discord support is available using this invitation link.
Support is only available during week days: Monday to Friday between 08:00(UTC) and 16:00(UTC)
This Unchained addon is built on GW2 Combat Assistant's combat automation platform and will automatically activate when the character's requirements are satisfied. A seamless transition will occur if the character does not meet the exact requirements and fall back to GW2 Combat Assistant's default combat behaviours keeping you functional even if a small change is needed to overcome a specific challenge.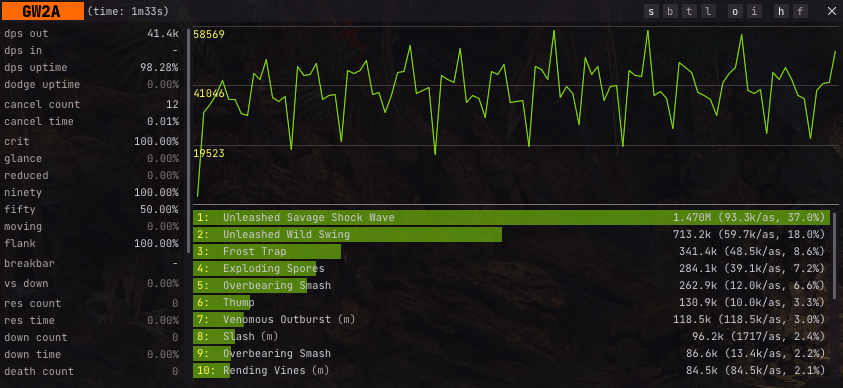 REQUIREMENTS
● Apply the Power Untamed build to your character.
● The Juvenile Tiger pet needs to be equipped. More cats may be supported in a future update.
● Utility skills can be in any slot.
ADDITIONAL USAGE NOTES
● The Elite skill is not required, players can select and cast at their discretion.
● Play style should be restricted to melee. If the player is out of melee range, the combat routine will be suspended until a target is within melee range.
● If ascended gear is beyond your reach, exotic gear will suffice.
● Flanking provides you with bonus Critical Chance and Strike Damage from Hunter's Tactics specified by the provided build.
● To trigger Knockdown from Exploding Spores, you need to hit with all spores. Stand in the hitbox of smaller bosses to guarantee this as soon as you see that the skill is ready to cast.
● A good support squad that provides a steady application of alacrity and quickness improves this build's performance.
● This build is not recommended on bosses that are immune to disables. For example, if Qadim has Stability, Fervent Force will not activate.
● Enabling the in game auto attack on hammer 1 is highly recommended to help fill cast gaps.